5 Best Poker Rooms in Las Vegas

There isn't a better place to play poker than Las Vegas. Sin City is home to some of the absolute best and most profitable poker rooms in the world. It's tough to choose the right card room considering there are so many options in this beautiful desert town, which is why I'm here to help you pick the best of the best.
What's not to love about the Aria poker room? Not much. This world-class card room features the most comfortable chairs I've ever encountered in a casino, some of the best daily tournaments in Las Vegas, and my favorite perk: free delicious watermelon juice served up by the lovely cocktail waitresses while you play.
In the evenings, you're likely to have a wait to get in a cash game. The room is often packed with a wide mix of games ranging from $1-$3 no-limit hold'em all the way up to the highest stakes mixed games you'll find in the US. Expect to see poker celebrities wandering around, especially during the monthly Aria high roller weekends.
2.Bellagio (Central Strip)
A two-minute free tram ride from Aria is the luxurious Bellagio hotel, another MGM Resorts-owned property. The Bellagio poker room is quite similar to Aria in that hundreds of players playing games at all levels fill the room daily and the chairs are equally comfortable. What puts Aria slightly above Bellagio on this list is the daily tournaments at Aria are more profitable and worth your time. Bellagio is more known for its cash games than daily tournaments.
3.Wynn-Encore (North Central Strip)
In 2016, Wynn moved its quality poker room over to the Encore side and it turned out to be a great decision. The "new" poker room is one of the fanciest places I've ever played cards. The cash games are some of the best in town because there are so many wealthy recreational players that come here to take a break from the blackjack tables and are just looking to have a good time. These players aren't concerned with losing a few hundred bucks. They are there to socialize and have a few drinks. That means free money for the grinders.
4.Venetian (North Central Strip)
Just south of Wynn is the beautiful Venetian, home to one of the biggest and best poker rooms in Las Vegas. As I wrote in an article, I have a love-hate relationship with the card room. I love everything about this poker room, except for the person who runs the casino (Sheldon Adelson). Adelson has fought to ban online poker in America and that makes it hard for me to want to play in his casino. But the truth is, this is a great poker room with many juicy cash games (even mixed games, PLO, and other non-NLH games) and some of the best daily tournaments in town.
5.Red Rock Resort (West of Strip)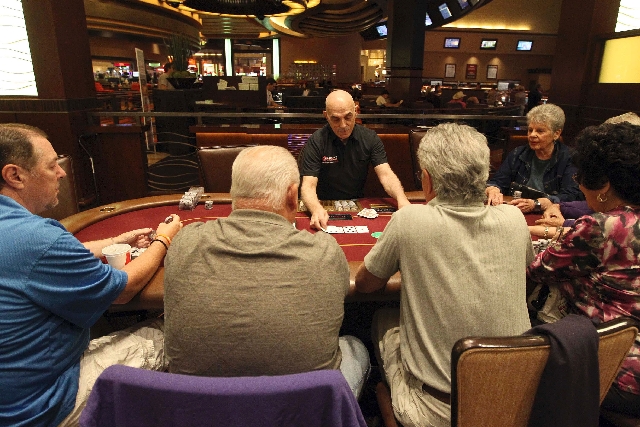 The poker rooms above are great, but you won't find easier cash games than at a place like Red Rock. Most of the players in this Stations Casinos brand casino are old and still play the same style they played back in the 1990s. This is a place where locals who think they are skilled players go to dump money to younger players who actually do know how to play. You won't find high stakes games here but the low stakes games are so easy to beat.
Just Missed the Cut
6.Golden Nugget (Downtown), 7.Caesars Palace (Central Strip), 8.Green Valley Ranch (Henderson), 9.MGM Grand (South Strip), 10.Mirage (North Central Strip).