I'm always excited for the WSOP, but never more so than 2018, the 49th annual summer poker extravaganza at the Rio All-Suites Hotel and Casino in Las Vegas. Not only do I have plans to grind cash games harder than ever before this summer, and maybe mix in a few tournaments, but I will also be doing more media coverage for CardsChat.com and my own blog than in year's past.
Plus, there are some exciting story lines I'm looking forward to as we approach the 2018 World Series of Poker.
How Will People React to Chris Ferguson's Picture on the Wall?
Chris Ferguson is unquestionably one of the most despised poker players in the world. Last year, he won a bracelet at WSOP Europe, set the record for most cashes in one year, and scooped WSOP Player of the Year to the dismay of many in the poker community.
Like every other POY winner, "Jesus" (should we still call him that?) will have his picture hanging from the rafters at the Rio Convention Center this summer. Imagine being a former Full Tilt Poker player who didn't get paid for three years looking up at Ferguson's mug during a tournament. Talk about…ahem…"full tilt."
Will Phil Ivey Grace Us With His Presence?
I know I'm not the only one who misses Phil Ivey's presence at the WSOP. The 10-time bracelet winner, tied for second all-time behind Phil Hellmuth, simply doesn't care about tournament at this stage in his career, which is a shame because he's one of the most popular players of all-time. Ivey made an appearance last summer in Vegas, but only to play cash games at Bellagio. For the first time in many years, he didn't even compete in the Main Event.
Let's all hope Ivey decides to leave the juicy nosebleed games over in Macau at least for a while this summer to compete in a few bracelet events. But I won't hold my breath.
Will Doug Polk End Up at a Table With Rival Daniel Negreanu?
Doug Polk has fueled a somewhat petty feud with Daniel Negreanu over the latter's affiliation with PokerStars, a poker site he despises. DNegs hasn't made many public statements about Polk, but that hasn't stopped Doug from repeatedly bashing the six-time WSOP bracelet winner on Twitter and in YouTube videos.
Polk, along with many once loyal customers, has a beef with PokerStars over the site's decision to remove its popular rewards program that benefited the pros, and increased rake. He's understandably upset with The Stars Group, PokerStars' parent company, and I can't blame him for speaking out against those who defend these changes, including Negreanu who has been the face of the company for many years. But to call Daniel "an embarrassment to the game of poker" for defending a poker site that pays him a ton of money to represent is the embarrassment to poker. And I enjoy Doug's videos and think he's great for the game. But this is crossing the line. We need to stop attacking those who we disagree with.
It would be quite entertaining to see these two players seated next to each other during a WSOP event this summer. How awesome would it be for DNegs to slow-roll Polk and then reference Kenny Powers with a, "you're f*ckin' out!?"
Will Phil Hellmuth Extend His Bracelet Record?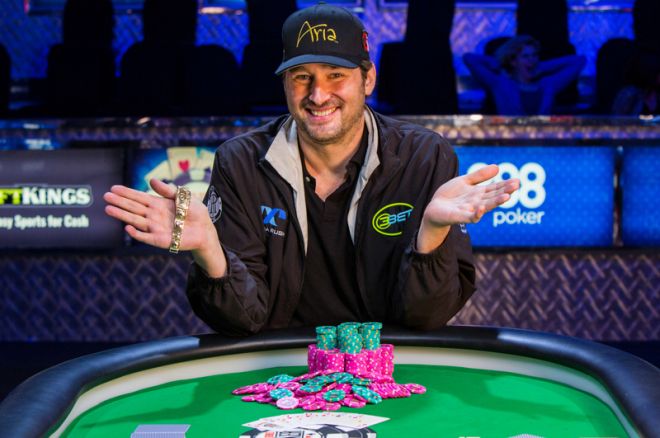 Phil Hellmuth is arguably the most accomplished tournament player ever and has a WSOP record 14 bracelets. But he hasn't scooped a World Series of Poker title since 2015, a three-year wait that has probably seemed like an eternity to one of the most competitive poker players in history..
Even at age 53, winning bracelets is still at the top of Hellmuth's list of importance. The Poker Hall of Famer still grinds the WSOP schedule, something you don't see much anymore from players his age. It's clear the love of the game hasn't been lost on the "Poker Brat," and his competitive fire remains the same as it did twenty years ago. Go get 'em, Phil!
How Will Players React to the Big Blind Ante Events?
There will be eight bracelet events, and some of the Rio daily deep stack side events, using the big blind ante format, a somewhat new concept to poker, for the first time at the WSOP. I really enjoyed playing in a few big blind ante tournaments at Aria the past few months.
If you're unfamiliar with the concept, instead of the entire table paying an ante before the flop, the big blind covers the ante for the everyone. This helps speed up the action. It will be interesting to see what players who have never played in a big blind ante tournament will think of these events.
Author: Jon Sofen